Public Skate to Benefit Urban Wildlife Rehabilitation, Inc. Set for May 4
SPRINGFIELD - Urban Wildlife Rehabilitation, Inc. will host a Public Skate fundraiser on Saturday, May 4, 2013 from 4-6:20pm at the Mullins Center Ice Rink, 200 Commonwealth Avenue on the University of Massachusetts, Amherst campus.
Urban Wildlife is a nonprofit organization that provides medical care, food, and shelter to injured, ill, and orphaned small mammal species until they are able to return to their natural environment.
The event will feature ice skating, music, and baked goods and Urban Wildlife merchandise for sale.
Cost is $8 per child, student, or "Season Pass" holder and $10 per adult for admission with free skate rentals for those who need them. Proceeds will be used to purchase food, medications, and other supplies to care for Urban Wildlife's patients and maintain its facility. All donations to Urban Wildlife are tax deductible.
For more information, contact Ann Fisher at 413-222-4873 or e-mail her at volunteerann1@gmail.com.
---
April 13, 2011
Urban Wildlife Rehabilitation is now offering internships. Click here to learn more.
February 6, 2010
WILDLIFE REHABILITATORS' ASSOCIATION OF MASSACHUSETTS
Conference and Annual Meeting
Saturday February 6, 2010
Cummings School of Veterinary Medicine at Tufts University
Varis Hall, N. Grafton MA
Morning Sessions--
Mark Pokras DVM, Tufts Wildlife Clinic
"Birds of Prey" by Julie Ann Collier and Jim Parks of Wingmasters
"White-Nose Syndrome in Bats" update by Alison Robbins DVM
Lunch, socialize and place bids on auction items.
Afternoon Sessions--
"Waterfowl Rehabilitation for Everyone" by Michele Goodman of Webbed Foot Wildlife
"There's a Baby Fisher on My Doorstep -- Now What do I do?" by Judy Ellal
Wrap up and Silent Auction.
4:30 WRAM Annual Members Meeting and Elections.
Program/registration: DOC PDF
---
February 14, 2009
WILDLIFE REHABILITATORS' ASSOCIATION OF MASSACHUSETTS
Conference and Annual Meeting
Saturday February 14, 2009
Cummings School of Veterinary Medicine at Tufts University
Varis Hall, N. Grafton MA
Jonathan Way, Ph.D. – Ecology and Education of Eastern Coyotes
Very little is known about coyotes in suburban and urban settings, but Jonathan Way's research has provided insight into these fascinating, highly successful predators. Way obtained his M.S. at the University of Connecticut at Storrs and Ph.D. at Boston College where he combined science and educational issues associated with these creatures. He has also hand-raised a group of coyotes, which was a valuable asset to both the science and educational components of his work. He also continues to radio-collar and follow coyotes on Cape Cod and in Boston to learn about their behavioral and dispersal patterns. His main interest concerns the study of predators inhabiting urbanized ecosystems. More information on these coyote projects can be found by visiting his homepage: http://www.easterncoyoteresearch.com.
David Taylor – "It's a shell of a thing when turtles meet cars"
Dave taught high-school science for 32 years at Triton Regional School in Byfield. He created and ran an innovative class called Natural Science where students worked with wildlife throughout the school year. Some of his students had the opportunity to assist professional marine biologists in the necropsy of whales that washed ashore in New England. He is currently a guest investigator at Woods Hole Oceanographic Institution studying vestigial pelvic bones of whales. Dave has been rehabilitating and caring for turtles for many years.
---
February 05, 2009
The Massachusetts Society for the Prevention of Cruelty to Animals announced Thursday it will close its animal adoption center in Springfield MA. Urban Wildlife has received a fair number of injured or orphaned wildlife that kind hearted members of the community have brought to the center. It is likely that many would have died if not for the staff down at the MSPCA. They will be missed.
---
August 2006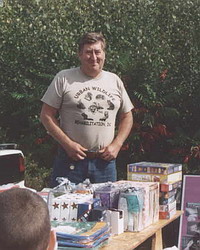 In early September, Ted Bernard, a hard working contributor to Urban Wildlife Rehabitation and beloved husband of Joan Bernard for 37 years, passed away suddenly due to complications from heart surgery. Ted was very active helping animal rescue organizations, working as a supporting cast to his wife Joan who held fund raisers, tag sales and other events that helped homeless pets and cared for wildlife in distress. Ted, a big man with a big grin, always ready with a good joke, useful tip or a helping hand will be sorely missed. Our thoughts and prayers go out to Joan for her loss.
Dee, Tom and the staff of Urban Wildlife Rehabilitation